The History of the Church dates back 19th Century in the year 1820 when Mr. John Sullivanwas the collector of Coimbatore District. Mr. John Sullivan, Mr. Lucington the forest officer and Rev. Kittens the Chaplain all three put their joined endeavour to alienate this present Church site for the Church building.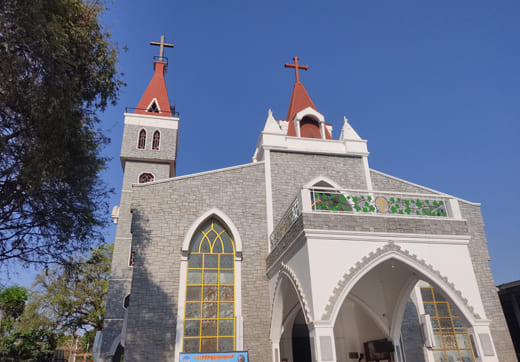 God has abundantly blessed this congregation traditionally as SPG (Society for Propagation of the Gospel) who had humble beginning worshiping in Tamil in the English All Souls' Church building from 1870 every Sunday evening. But the circumstances and the growth of the congregation forced the people and also the Holy Spirit generated the desire in the minds of the people to build a separate Church exclusively for Tamil congregation and they succeeded in their attempt by the grace of God and their desire culminated on the day of 15th October 1898 when Bishop. Jell laid the foundation for the first Church building and the completed Church was dedicated by Bishop. Rt. Rev. White Hight along with Rev. Packianathan in the 11th day of June 1910. Forced by the growth of the congregation the Church was extended during the period of Rev. Sam Vedamuthu in the year 1970.
In the year 1947 on the formation of the Church of South India our Church was allocated to Trichy – Tanjore Diocese from Madras Diocese. In 1950 after the formation of the Coimbatore Diocese we became part and partial of the Coimbatore Diocese.
The Church was rededicated by Rt. Rev. S.J. Samuel when Rev. I. Somasundaram was the Presbyter. The Church entered the Platinum Jubilee year in the year 1985 during the Pastoral ministry of Rev. Philip. K. Mulley.
As the strength of the congregation grow rapidly the then Presbyters and the committee perceived the plan of a larger Church with a vision and the foundation stone was laid by Rev. E.G. Devavaram on 01.11.1994 and the present magnificent fabulous Church was consecrated on 27th September 1998 by the then Moderator of Church of South India The Rt. Rev. William Moses who was also the Bishop in Coimbatore. The significant feature of this Church pertaining to the construction of the Church is that the entire cost of the Church construction was met by the generous contribution of the congregation of this Church only which is unparalleled and unique. There was no outside donation for the purpose.The congregation still follows the traditional Anglican order of service and keeps the spirit of SPG and Anglicanism.
The Centenary year which falls on 2010 A.D and it was celebrated grandly. So many God's men like Bro. Cruz Diwaharan, Rev. David Stewart, Rev. Vincent Selvakumar, Dr.Pushparaj and Sis Rebecca Jothi were participated and shared the word of Our Lord Jesus Christ.
The Centenary year celebration was last about one month with weekend Programs. Our Moderator Rt. Rev. Devakatachom and Bishop Rt. Rev. Jebachandras (Nazareth Tuticorin) Bishop Rt. Rev. Christudass (Tirunelvelli Diocesan) came and blessed our congregation.