Conveyor: Mrs. Virginia Arun
Superintendent: Mrs. Anita Godwin
Greetings in the name of Lord Jesus!
With a grateful heart, we thank Lord Jesus Christ for blessing our church with Sunday School Ministry. We are a family of more than 350 children and 50 teachers & 5 volunteers.
By God's grace we organised online classes during the pandemic. The Sunday School commenced on 5 June 2022 in the first floor of our New Prayer Hall.
The Sunday school session begins at 9.30am with an opening prayer, followed by Praise & worship session.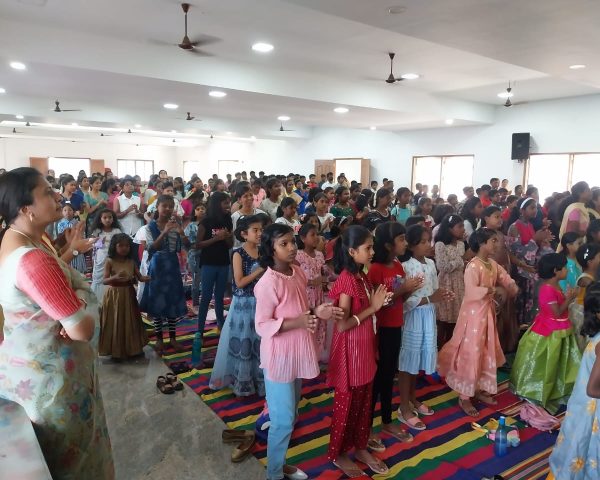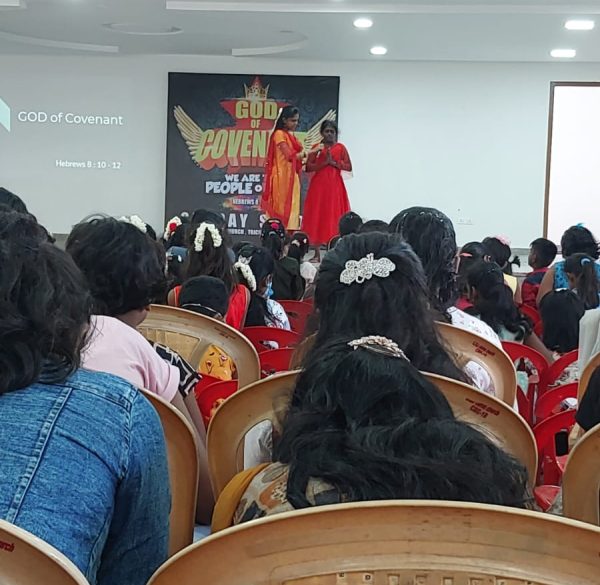 GOOD HABIT

"Teach them to your children, talking about them when you sit at home and when you walk along the road, when you lie down and when you get up".
                                                                                     Deuteronomy 11 : 19
Every week we sow the seeds of a Good habit with a bible verse. Example
To wake up early in the morning like Joshua. Joshua rose early in the morning. Joshua 3:1
"Rise up, walk through the length and breadth of the land, for I will give it to you." – Genesis 13:17
To honour your father & mother. Exodus 20:12
Top save money : The hand of the diligent maketh rich. Proverbs 10:4-5
To avoid unnecessary expenses :'The wise save for the future; the foolish spend everything they get. ' Proverbs look 21:20 and many more.
GENERAL ASSEMBLY 
The Sunday school family is motivated to pray for others (Special Prayer request). One student comes forward to pray for a prayer point each week.
We offer the word of God through Mrs. Anita Godwin & other speakers.
"I will instruct you and teach you in the way you should go; I will counsel you with my eye upon you" (Psalm 32:8)
Last academic year, we dealt with "The Covenant of God". Holding on to this theme, we dealt on
What is a covenant?
Covenant of salt
Covenant of Abraham
Covenant of Adam
Covenant of David,
New Covenant
Edenic covenant etc and much more.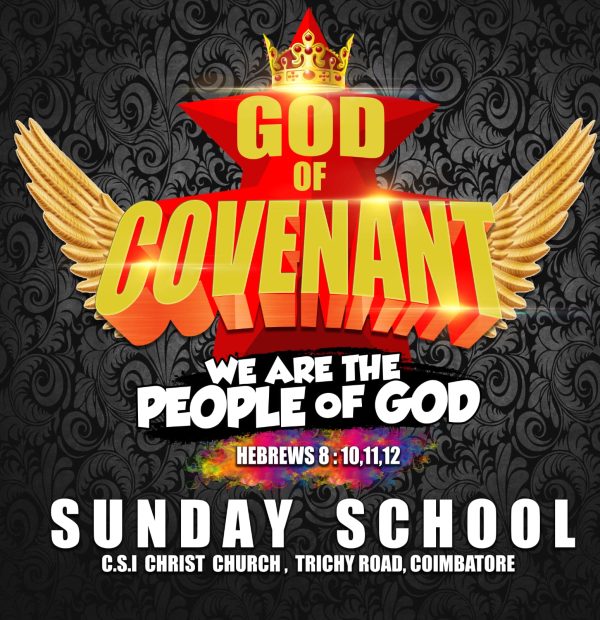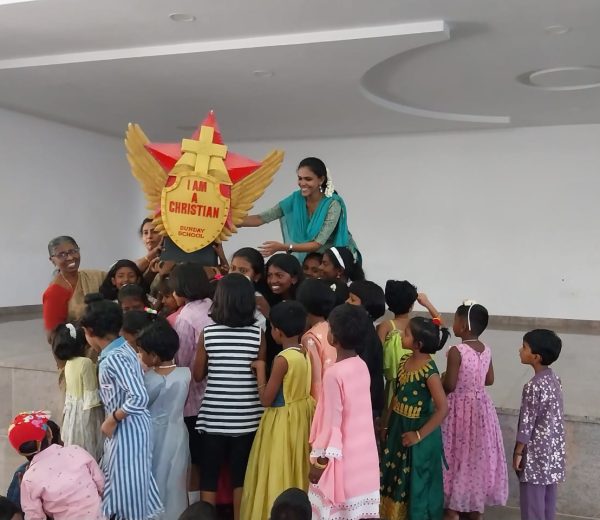 We inspire children with a memento for those who actively participate in Bible quiz activities. In order to encourage the children , they are divided into two teams to motivate the children as Shining Super Stars as boys team Glittering Girls as girls team. They are awarded with points and the team with the highest points gets the Rolling Trophy for the week.
We collect offering and bless the birthday children and close the session with a prayer. After the general assembly, children join the individual classes for a small devotion.
TEACHER FELLOWSHIP
"Pray without ceasing" 1 Thessalonians 5 : 17.
Every week after the Sunday school, All the teachers join together for preparatory prayer meeting where a small devotion is given followed by few prayer points, sharing the witness, and planning for the upcoming events is made.
SUNDAY SCHOOL ACTIVITIES 
In July, Teachers participated in Annual Teachers retreat, organized by Childrens ministry, CSI Coimbatore Diocese at Varatharajapuram Church.
On 21 August 2022, Teachers Retreat was conducted by Mr. Paul Isaac & Team. During which the teachers were encouraged to pray for each & very children individually. In a short time, a separate prayer was started by acknowledging the name of  the student, teacher and volunteers.
A call to be a missionary was made  by Mr. Godwin, Our Ex Sunday school student who is currently working as a Full time Missionary in North India.
A special prayer was offered for teachers in the Sunday School on the occasion of Teachers' Day.
During the Pooja Holidays, Youth retreat was conducted @ Yercaud by the Children's Workers Fellowship and Litting Lights for Little Hearts Mr. Ranjith & team, in which 60 children & 10 teachers participated and experienced the power of God.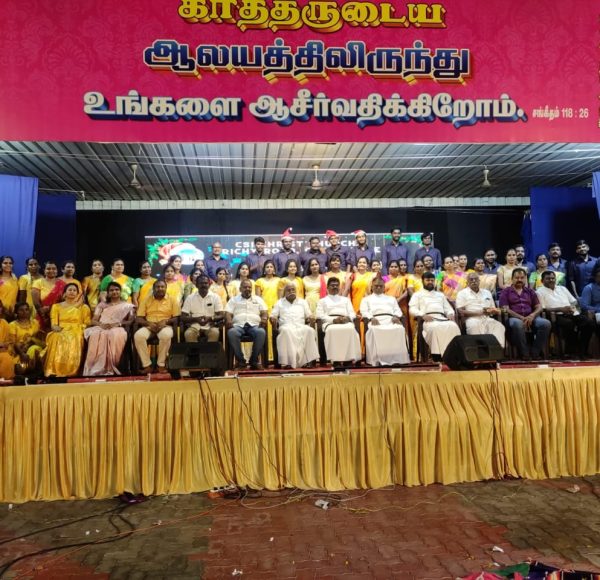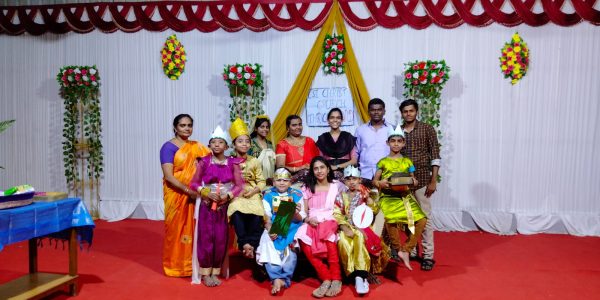 Annually, Childrens ministry, CSI Coimbatore Diocese conducts Children retreat during Pongal holidays, in which various competitions are conducted. In bible Tableau competition, we won First place and in Advent competition we won Second place and also children participated in various competitions like Song competition, Dumb Charades, Quiz Competition, Video Making, Poster Presentation. In teachers bible exam, Mrs. Rajula Evangeline won first place.
27th August 2022, Talent Quest Competition was conducted in which students participated in various competitions and won exciting prizes.
During Christmas season, we the Sunday school family devoted ourselves to the charity. Children brought various Gifts for the needy people and it got distributed to Attapadi, Kakkan Nagar, Jawaharlal nehru childrens home-Ondipudur & Kallukuli children along with the Word of God.
Children's ministry, CSI Coimbatore diocese conducts bible exam annually and the diocese winners & first 3 prize winners are awarded.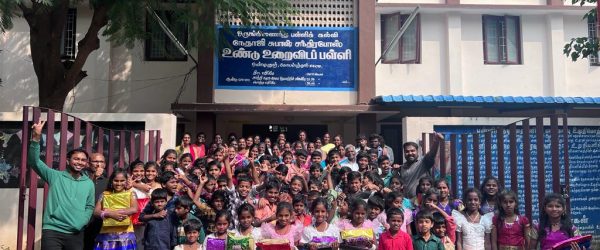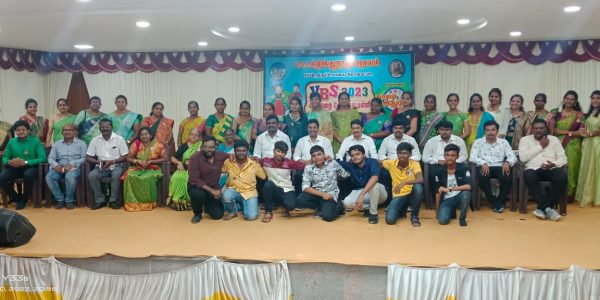 Sunday School continue to persist until the Vacation Bible School in April. Teenagers are given special counseling through motivated speakers.
Every year Vacation Bible school commences  from 21st to 29th April. This year VBS was conducted by Paliyar Nesan & team from Tirunelveli. We had dedicated 6 dedicated prayerful Directors  : Mr.Arul Thangaraj (Team leader), Joesph, Basker, Bevin, Paulraj,  Reuban. The theme for this year's VBS is "Time is near", Under which the children dealt on the importance of Time. We had 33 dedicated teachers & hardworking volunteers who remained the backbone of the VBS. 
Love feast day was celebrated in which children was encouraged to bring food from their home and asked to share with their friends.
Our sincere thanks to our church Pastors, Secretory Treasurer, Sunday School Convenor & Committee members for their support.
We render our heartfelt thanks to our Sunday school children & their parents for sending them regularly to Sunday school to hear the word of God.